In November last year, I was approached by The Bentway to create a self-guided tour for the Safe in Public Space Initiative. 
And I'm excited to share that the
 urban tour I created is a part of the
#JanesWalkTO
2021 festival this year! 
Check out "The Unequal Urban: Exploring Health Equity & Public Space Across Two Toronto Neighbourhoods" as we explore links between
public space
and social x racial x health equity.
Join us online at https://janeswalkfestivalto.com/theunequalurbanexploringhealth
This self-guided audio tour delves into the links between public health and public space by exploring two neighbourhoods in Toronto, starting at the edge of Rosedale-Moore Park and making our way to St. James Town.
Toronto is divided along racial and income lines, and COVID-19 has highlighted these disparities. We will explore a range of built environment features and public amenities such as green spaces, streets, active transportation and housing. We'll also discuss the social and structural "determinants of health that cause physical and mental health inequities, and the need for an equity-focused approach to the built environment. Reflection questions will prompt us to think critically about issues concerning public health and public space as the pandemic rages on, and as we look to what kinds of spaces we want beyond COVID-19 and in the wake of calls for racial justice and health equity.
• Subway accessibility and seating is noted on the map.
• Includes reflection questions, to encourage thinking about inclusivity, safety and belonging in public space.
• Includes a resource list of links to organizations and articles!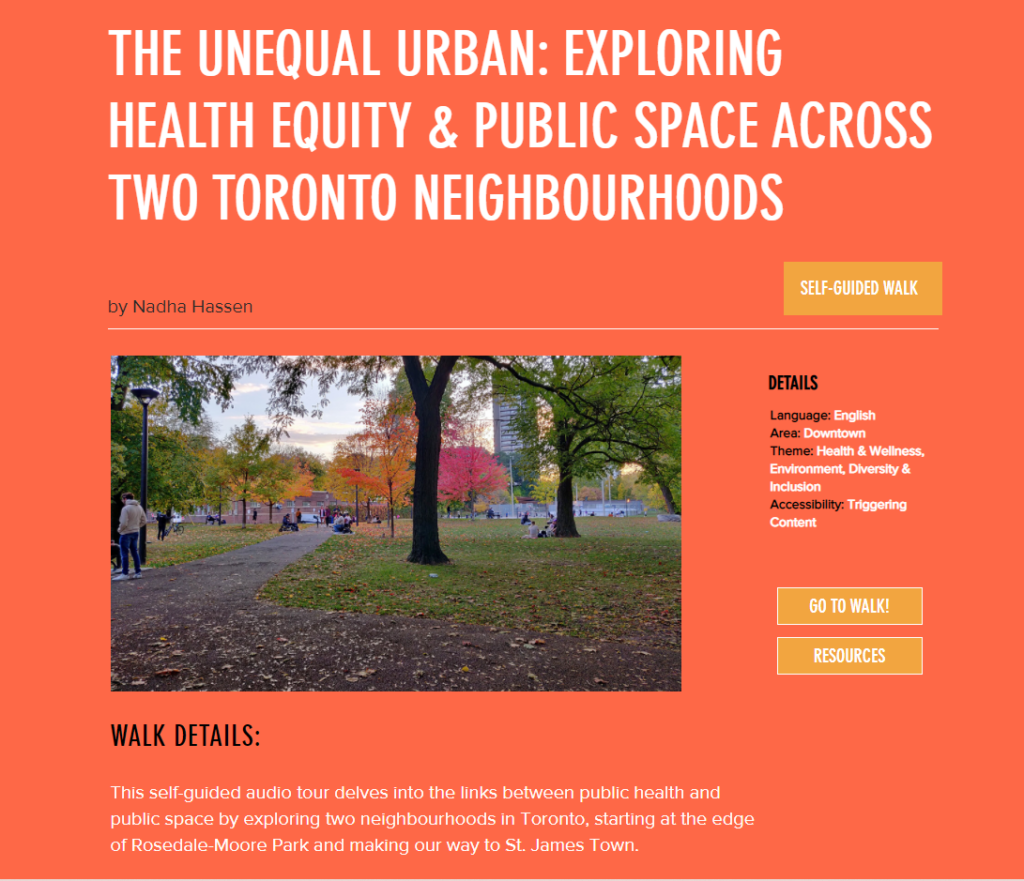 YOU MAY ALSO LIKE TO CHECK OUT
A low traffic resource round-up of resources and information at the intersections of public health x equity x public space. For more on Research (Questioning): articles, evidence, knowledge of all kinds, Lived Experiences (Being): stories, art, community, connections and Practice & Action (Doing): curated resources, advocacy, workshops, join up to my free newsletter. Sign up here.
Why We Should Prioritize Slowing Down
We all seem to be rushed off our feet. We know all too well the pressures that face those of us trying to earn a living while pursuing something we are passionate about and just to live a meaningful life. Being intentional about our lives starts with slowing down. Read more.
Labels have power. They can inspire but they can also box us in and feel limiting. I've grappled with what it means to be a cancer survivor and how this impacts my identity and sense of self. Read more.