About the Book
Dancing in the Rain is a children's book (ages 7 and up) which features a collection of inspiring short stories, beautifully hand-illustrated by the author. Interwoven throughout the book is the positive message of celebrating life. Dancing in the Rain follows a group of children and their families as they accept and overcome the life challenges that come their way.
This book takes sneak glimpses into the lives of five young children and their families – following their successes, laughter and tears. When confronted with challenges in life, we may often feel alone and isolated, and reaching out can sometimes make a big difference. This book is a thoughtful reminder to celebrate life while supporting valuable programming for children and youth.
Note: some mature themes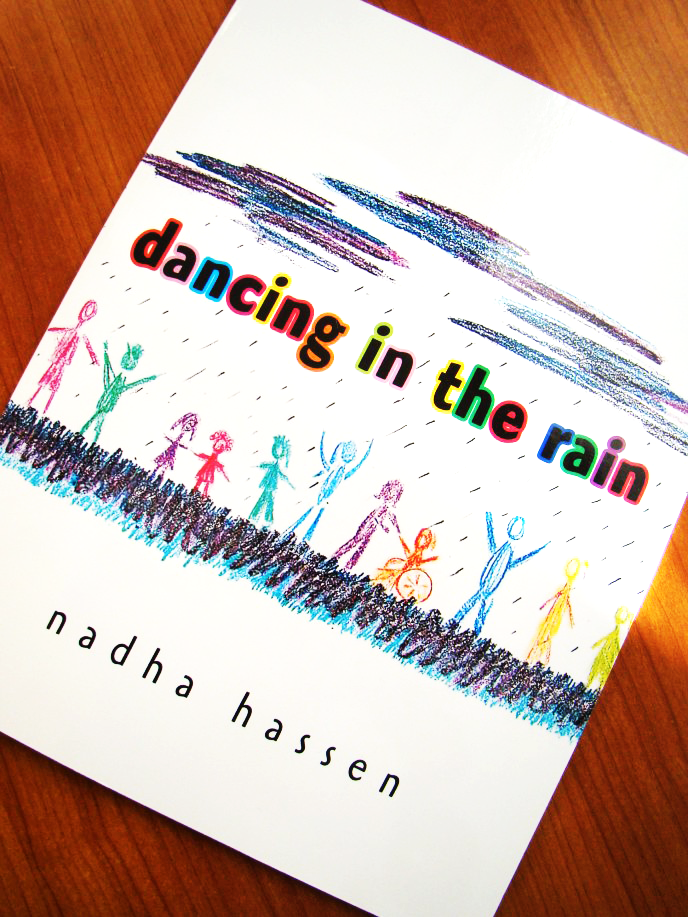 The story behind the book
Dancing in the Rain was inspired by years of working with diverse groups of children and youth. In 2007, the book Dancing in the Rain started as a personal project and a few short stories were penned as ideas on paper. The initial drafts were written when I was a seventeen-year-old who was trying to understand the variety of challenges that life presents and was coming to terms with pain and loss. The book touches on a variety of circumstances, ranging from health issues such as cancer and autism to losing a loved one.
The characters in the book
Over time, the characters in the book developed strong, unique personalities and eventually wanted their stories to be shared with others. The characters in the book Dancing in the Rain helped me understand that despite the difficulties that it presents, life should be celebrated. There is no formula to being happy and no foolproof way to overcoming challenges. Everyone does the best they can every day. Life is about dancing in the rain. Now, the stories of Khalon, Keisha, Maska, Seren, Shae and Amdis and their families are officially bound together in this book to share with both children and adults alike.
Vision of the book
My initial vision with this book was to create a collection of stories to share with the children and youth I was working with. A broader goal is to highlight some shared (but often unspoken) human experiences with readers all over the world and remind us through the harder times that we are not alone. Have you ever wondered, "why me?" It's not just you. 
I've experienced the importance of cultivating empathy and fostering resilience at all ages. We need to learn how to have difficult conversations and meaningfully engage with people of all races, ages, genders, abilities and life stories.  We need to learn how to support one another, not just in thought but through action.
Buy the Book
PAPERBACK: $15 CAD   
EBOOK/ EPUB FORMAT:  Ebook  | Barnes & Noble
Beginning in 2021, at least 50% of the proceeds from the books sold will be donated. Past recipients have included Gilda's Club Greater Toronto and the Evergreen Brickworks Children's Programming.
If you would like your copy of the book autographed, kindly request this in the "Note to seller" section available before completing your payment. Feel free to request a short message made out to someone in particular and I will do my best to oblige. For bulk purchases, get in touch and we can work something out.
Praise for Dancing in the Rain 
"Sometimes you find a book that is so sweet. So wonderful and meaningful. Dancing in the Rain is just that book."
– Sonya D., Urban Moms
"Gilda's Club Greater Toronto (GCGT), a registered charity, would like to thank Nadha Hassen, for her ongoing support of the work being done at Gilda's Club. As a teen, Nadha volunteered at GCGT in our children's camp and then when her own life was impacted by cancer, she returned as a program participant. Nadha took part in our Digital Storytelling program where she continued to share her story about living with cancer and overcoming challenges. By choosing to support Gilda's Club through proceeds from the sale of her wonderfully written book "Dancing in the Rain", Nadha through the gift of storytelling is helping GCGT ensure no one has to face cancer alone. Living through life's challenges with a supportive community, hope and resilience are themes that Nadha's book and Gilda's Club have in common."
– Pat Brown, Executive Director of Gilda's Club Greater Toronto
"I love the positive spirit of Dancing in the Rain. When I was feeling stressed and down about a difficult event in my life, I pulled the book off my shelf and flipped through the pages. I felt comforted by the messages of hope and youthful wisdom for staying strong. The thoughtful illustrations and quotes add the perfect touch. I wholeheartedly recommend it."
 – Katie
"Nadha Hassen's writing is wise and accessible. The reader is drawn into each character's story with a kind of awe -awe at the way these children and families deal with the challenges of life through finding beauty moment by moment. As a reader, I was left feeling grateful for all that life has to offer."
       – Makeda
"The sensitive illustrations perfectly complement these tales of resilience and the power of hope, imagination and love."
– Annette, Mother and LGBTQ2+ Seniors Advocate
"An empathetic and gentle book, Dancing in the Rain touches on life challenges and adversity, including grief, disability and illness,  through hopeful and captivating storytelling. Each vignette in the book weaves into the next, revealing powerful lessons and reminders along the way. Nadha Hassen's writing is nostalgic and comforting, wise and encouraging. She reminds us of the inner strength and resilience we all have. As a reader, I fell in love with the characters in this book and saw my own loved ones emanate through them."
       – Shermeen
"The best thing about this book is that it's not condescending and patronizing. That's what makes it a good children's book."
– Patrick H.
"Amazing young talented writer, she has wisdom way beyond her years and is very well spoken."
– Yves B.