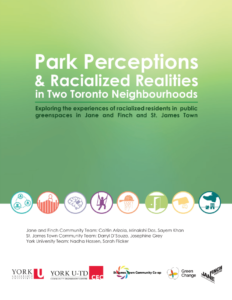 My dissertation "Park Perceptions and Racialized Realities: Exploring the experiences of racialized residents in two Toronto neighbourhoods" is a community-based participatory research project. The project explores the experiences of racialized and Black, Indigenous and People of Colour (BIPOC) in public greenspaces in two under-resourced Toronto neighbourhoods, Jane and Finch and St. James Town.
The project was designed and conducted in collaboration with community members and community organisations, Greenchange, Jane/Finch Centre and the St. James Town Community Co-operative.
From July to November 2021, 18 racialized residents went on over 35 greenspace visits. Together, we collected over 200 photos and videos documenting our experiences and capturing our perceptions on issues like access, safety, inclusivity, and mental health and well-being. We had over 55 online discussions to debrief those experiences with researchers and each other. Resident photographers shared their perspectives on what it means to navigate and use public greenspaces in Toronto as racialized people.
From December 2021 to April 2022, we engaged in a process of collaborative "sensemaking." We looked across our photographs and narratives to analyse the information and identified 8 key themes:
Belonging and social connection
Exclusion
Mental health and wellbeing
Right to play and children's recreation
Maintenance inequities
Access and accessibility
Safety
Gentrification and complex use of space
In keeping with the principles of community-based participatory research, I prioritized collaborative and community-focused activities prior to working on my dissertation. Knowledge mobilization involved collaboratively writing a community report for dissemination and advocacy as well as a community event in each neighbourhood.
Our community report launch was picked up by the media as well! Check out: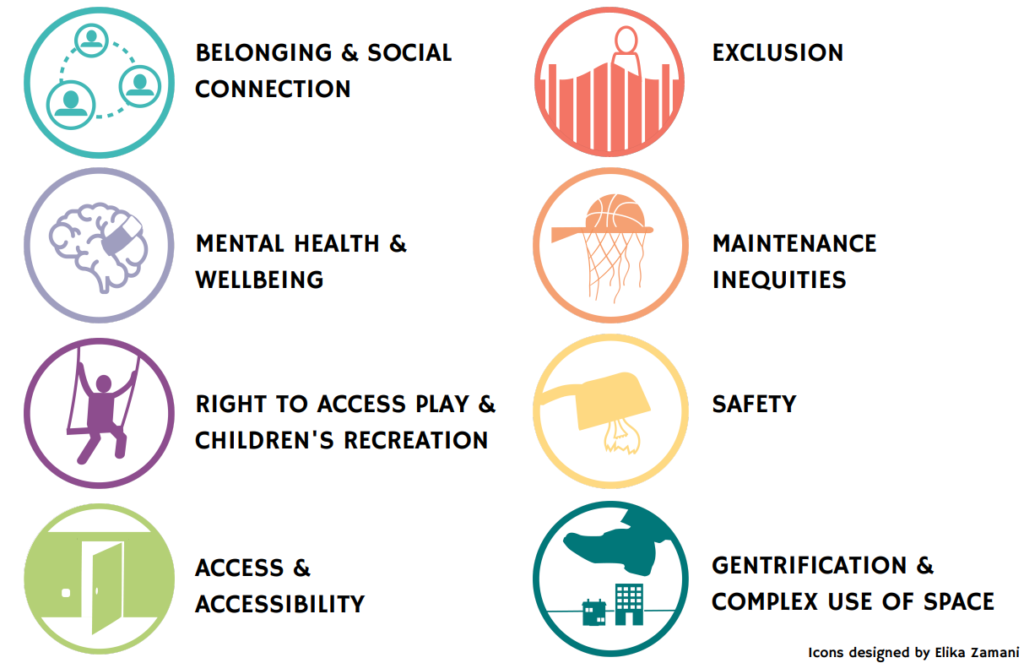 On a personal note, it's been an incredibly rewarding experience and far more meaningful because of the relationship-building and engagement with community members. However, doing this work in a good way takes significant resources including time and funding. I have many thoughts and reflections on what it means to do meaningful community-based research, especially in the context of a dissertation and can hopefully take some time to distil all this at some point soon. It's not easy to do community-engaged research within the context of a dissertation due to structural barriers like access to funding etc. If more PhD candidates were supported (in all the ways) to do action-focused research that influences policy and practice, that would be a step in the right direction.
YOU MAY ALSO LIKE TO CHECK OUT
A low traffic resource round-up of resources and information at the intersections of public health x equity x public space. For more on Research (Questioning): articles, evidence, knowledge of all kinds, Lived Experiences (Being): stories, art, community, connections and Practice & Action (Doing): curated resources, advocacy, workshops, join up to my free newsletter. Sign up here.
Why We Should Prioritize Slowing Down
We all seem to be rushed off our feet. We know all too well the pressures that face those of us trying to earn a living while pursuing something we are passionate about and just to live a meaningful life. Being intentional about our lives starts with slowing down. Read more.
Labels have power. They can inspire but they can also box us in and feel limiting. I've grappled with what it means to be a cancer survivor and how this impacts my identity and sense of self. Read more.