When COVID-19 hit, alongside many of the massive life changes, there was a push for new research and multiple calls for papers in academic circles.
On March 8th, 2020, I also sustained a semi-serious health setback. While I and many others were struggling to keep afloat, this push for productivity in academia felt overwhelming given that we were in the midst of extreme uncertainty and huge, rapid changes to life as we knew it. So when this "call for anything" came in from FIGS (Feminist Intersectional Solidarity Group of the Canadian Association of Geographers) about a zine that was literally accepting submissions about anything during COVID-19 times, it was refreshing. Here's a snippet of what was in their call: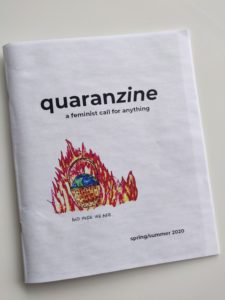 YOU CAN CONTRIBUTE ANYTHING (in ANY LANGUAGE), in these COVID-19 times. Yes! You heard that right! This is NOT a conventional CFP, but rather the COMPLETE OPPOSITE OF THAT! Would you like to submit a napkin? Receipt? Photo of your eye bags? Drawing done with a kid? A thank you letter/poster/cartoon in appreciation of the marginalized workers keeping us afloat? A rant about trying to manage life and duties? A drawing? A video of you screaming? A meme about emergency remote teaching? YESSSS! ALL OF THAT is what we're looking for! We strongly suggest SUBMITTING ANYTHING, 7 for kicks, give it a fancy academic title—why not?
After several weeks apart and several precautions, my mother and I were finally able to meet in person and we were both still struggling to process all the changes.
I had just finished wearing a holter monitor for 48 hours as part of my health investigation. We were reflecting on the rollercoaster of emotions we were both going through and the broader context of what was happening in our social contexts. The inspiration for this submission came from the ECG measuring the electrical activity of my heart, with its ups and downs. And so, my mum and I sat together and created something. We submitted. It was published. And here it is: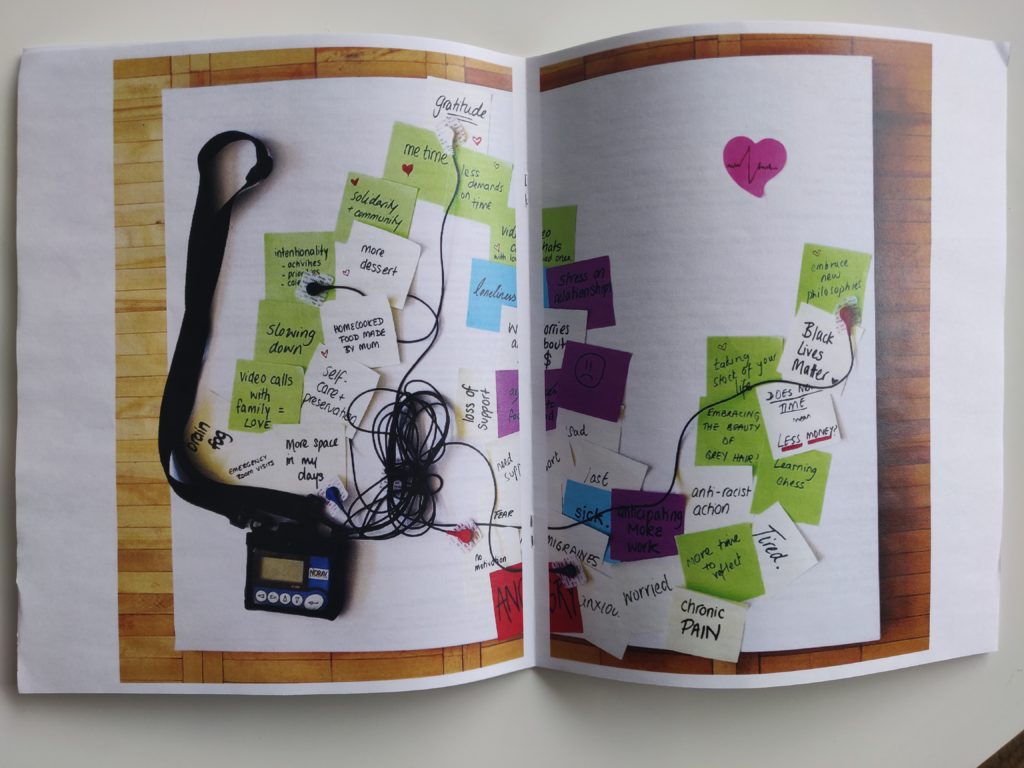 It was special to be able to create something with my mother and have both our names side-by-side, published in something that honours the everyday realities and complexities of pandemic life. And to not take ourselves too seriously in the process.
Thanks very much to Zoë Meletis (chair of FIGS) and everyone at FIGS for this thoughtful, solidarity-building project. The quaranzine was published in the summer of 2020. Although I meant to share this earlier, this post is going up in mid-February 2021. Oh well, that's the reality of these strange and trying times.
YOU MAY ALSO LIKE TO CHECK OUT
A low traffic resource round-up of resources and information at the intersections of public health x equity x public space. For more on Research (Questioning): articles, evidence, knowledge of all kinds, Lived Experiences (Being): stories, art, community, connections and Practice & Action (Doing): curated resources, advocacy, workshops, join up to my free newsletter. Sign up here.
Why We Should Prioritize Slowing Down
We all seem to be rushed off our feet. We know all too well the pressures that face those of us trying to earn a living while pursuing something we are passionate about and just to live a meaningful life. Being intentional about our lives starts with slowing down. Read more.
Labels have power. They can inspire but they can also box us in and feel limiting. I've grappled with what it means to be a cancer survivor and how this impacts my identity and sense of self. Read more.