June 18, 2015
Not all of us instinctively know the best way to respond to news of someone's illness, death or other life-changing experience. Empathy is something we need to actively work on throughout our lives. Personally, I think making an effort to be there while accepting that you may not always get it right is one of the best ways to learn to be supportive. I came across a website with a slogan that really resonated with me:
"It's the thought action that counts. Learn how to show up during hard times."
When I was diagnosed with thyroid cancer, I wasn't prepared for the ignorance and discomfort that people in my circles would feel. Discomfort to the point that they would just stop all contact with me. I wonder if these people have never had to deal with certain difficult situations in their lifetime. I thought that everyone would have had to face some form of hardship in their life…perhaps I was naive to think so? I still find it difficult to believe that there are people who are that incredibly privileged and/or lucky.
Having said that, I have had wonderfully supportive people in my life who took ACTION and showed up and…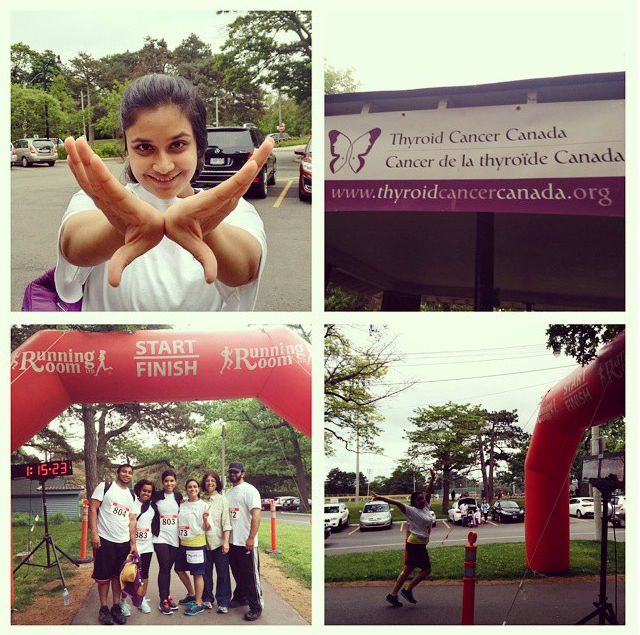 Wrote me emails to check in on me
Sent me cards/letters with thoughtful messages
Spent time with me so I wasn't alone when my partner/mother had to work
Played board games, built puzzles and went for short walks with me
Called me. (and wouldn't be upset if I didn't answer and would call again at a later time)
Read my blog posts and commented/replied/ were appropriately as disgruntled as I was
Donated in various ways
Walked with me last Saturday at the Thyroid Cancer Walk/Run!
In retrospect, here are two major things I wish people had done…
Dropped off homemade, frozen meals so we had food available and to take the burden off my immediate family. We ended up buying a lot of our food because of logistics, which ends up being expensive.
Offered to help with housework. Sweeping, grocery shopping, doing dishes, picking up prescriptions are all tedious things when sick and when taking care of someone who is sick.
These are just some ideas for taking action, there are many other unique ways to do so…I know it can be awkward, uncomfortable and even tough to just maintain eye contact (I've encountered a bunch of shifty eyes!), but I still appreciate it so much. So if someone close to you is going through a tough time, please try to show up and take action.