October 16, 2015
Health is a human right. Everyone, regardless of income, citizenship status, gender, age, sexual orientation, race or any other social factor should have access to quality, affordable and timely health care.
In 2014, I sustained a severe concussion and was also diagnosed with thyroid cancer. With the concussion, I was unable to work. I also took medical leave from school. The surgery and treatment for the cancer only amplified my concussion symptoms and prolonged my recovery. Furthermore, I had chronic bronchitis which translated into a daily inhaler as well as an emergency one. Co- morbidity which is the presence of more than one chronic illness in someone can very quickly become complicated and expensive.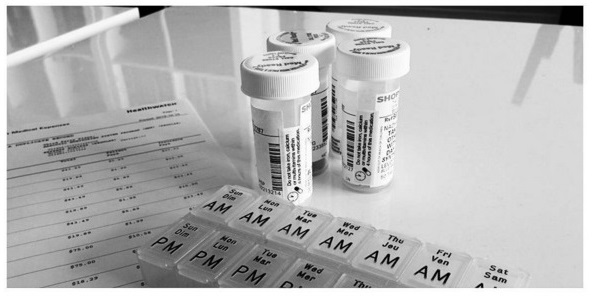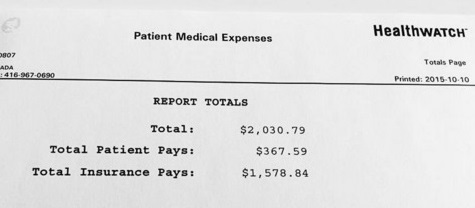 Last week, while picking up another round of prescriptions, I asked the pharmacist for a list of all my medications and costs for the last year. The final cost came to over $2000. Keep in mind, that is only for prescription medication, it excludes hospital room costs and injections and the range of vitamins and supplements I was recommended to take as well as all the other associated costs (like my wheelchair).
When I took medical leave from school, I was no longer covered by the university student insurance plan. In that time, I would have had to pay out of pocket for all my medications.I wasn't able to work at that time either, so I'm not sure where I was expected to produce the money from. I paid some out of my student loans.
Did you know that in the province where I live in Canada, the Ontario Health Insurance Plan (OHIP) does not cover costs of prescription drugs? This is an issue that people have been discussing in light of the federal election. Federal parties have the ability to implement policies that are more equitable and take care of our health.
I have always been interested in everyone's right to health but when I needed daily and ongoing medication, it became clear how quickly it becomes a money struggle. A national drug coverage plan may not matter to those who have the extra money to spend on their medication, but it disproportionately affects those who have lower incomes. 63% of all Ontarians have medical benefit coverage through work. However, only 15% of those in lowest-income bracket have medical benefits packages. [1] This is a health inequity – something that is "systemic, unfair and actionable". [2]
The only reason I didn't drown in debt because of my illnesses was because I got married in the interim and my partner's private insurance through work covered me. For the record, I didn't get married for health insurance but looking back, it was a great decision. My partner's private insurance covered more than 60% of my medication costs. I still can't afford my pills without my partner's insurance. Not everyone is so lucky. The issue is more layered. For example, if someone is in an abusive relationship, you don't want them to be dependent on their spouse to pay for their healthcare and drugs.
Health is something we should be able to agree on. Regardless of who you vote for in this federal election, it is important to be aware of where each platform stands with respect to health issues such as access to prescription drugs. These issues can be further analysed through a health equity lens. I'm voting for health and regardless of who gets elected, I will continue to support policies and organizations that advocate for everyone's health, because a healthier society benefits us all.