July 9, 2013
Yesterday, two events that took place within a few hours of one another highlighted for me the importance of good urban design, permeable surfaces, multi-sectoral collaboration and young minds in determining the future of this city.

The first event was a wonderful opportunity to witness and support a module of the Maximum City program, founded by Josh Fullan. The Landscape Architecture Module facilitated by Denise Pinto introduced high school students to the urban issues that affect cities, the variables that planners and landscape architects need to consider and the iterative, complex and vital work that goes into incorporating green space into city design.
In her presentation to the high school students, Denise described landscape architecture as "everything between buildings". Think about it, there is a lot going on between buildings.
After the presentation, through a mini charrette, these youth developed initial proposals for an empty lot at Wellesley and Yonge (which I learned has now been vacant for about 20 years). The community has, understandably, identified that they would like a park and some green space.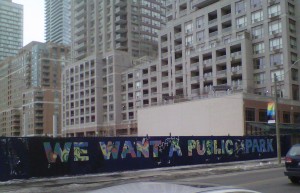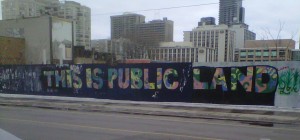 In teams, the students developed design proposals for the site focusing on one three themes: 1) winter landscape 2) community stewardship and 3) safety. Then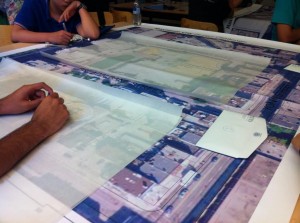 , they presented their proposals to everyone else (who pretended to be the residents of the neighbourhood) for community feedback and discussion.
I have said before that young people have great ideas and so much potential. It cannot be said enough. These youth were able to clearly articulate the sound reasoning behind their proposals, while integrating prior knowledge and what they had learned about social impacts, environmental issues and economic tensions. It was refreshing and uplifting to see intelligent dialogue take place among the next generation that will inherit this city.
After the module was over, I headed up to North York on the subway, unaware of how some of the urban issues discussed by the youth were going to play out in a very real way. Due to massive thunderstorms, the Greater Toronto Area experienced flooding and power outages. There were submerged cars involved.
During the 7 hour long power outage, I was abruptly cut off from the technology of today. My laptop went first followed by my cellphone, but not before I had a chance to find out from friends that there were flash floods all over the Greater Toronto Area. As darkness ensued and as I was ill-prepared with no candles and no flashlight, I had ample time to contemplate the urban design and infrastructure of the city in which I reside and how it responds to natural weather events. We've still got a long way to go.
Just earlier that day, the students at Maximum City had discussed how a patch of grass would absorb rain as opposed to a slab of concrete. It is critical that youth are given the opportunities to be engaged in their cities and understand the processes involved if they are ever to have a say in designing their future environment. Permeable surfaces are, of course, only one very specific component of the bigger picture and a greater vision- to design cities that are green and planned, walkable and engaged, sustainable and healthy.