ARC213: ARCHITECTURAL DESIGN
UNIVERSITY OF TORONTO
2009
cube
•  a symmetrical three-dimensional shape contained by six equal squares. The 6 planes of a cube can be individually manipulated and distorted.
Sol Lewitt's sculptures explore the regular and constant form of the cube …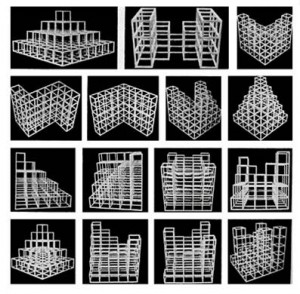 …whereas this project investigates a more dynamic, changing quality of the cube through space.
 Integration of the uninhibited natural world with human instinct to control.
uninhibited
  • expressing oneself or acting without restraint.
control
  • a means of limiting or regulating something
By inserting a horizontal plane between the two cantilevered sections of the structure, the space becomes habitable and allows the movement of people. The sequenced cubes form corridors along which people may walk. These passageways diverge to form increasingly bigger spaces. It also twists, forming interesting spaces with sloping sides or walls.
This concept was further developed to design a pavillion for Bickford Park, while considering the site (topography, light, circulation, access points, surrounding residences etc.) Plans and sections were also drafted.