"Life is not about waiting for the storm to pass, it is about learning to dance in the rain." -Anon.
A children's book about celebrating life. A group of children and their families accept and overcome the difficulties that come their way.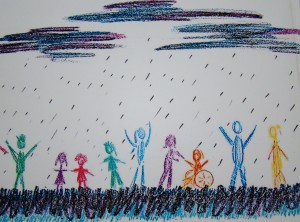 This book takes sneak glimpses into the lives of five young children and their families – following their successes, laughter and tears. Everyone faces challenges in life, and it is easy to feel alone and isolated. Reaching out can make
all the difference. This book is a thoughtful way to remind someone to celebrate life, while supporting valuable programming for children and youth who need it.
The story behind the book
Dancing in the Rain was inspired by years of working with diverse groups of children and youth. In 2007, the book Dancing in the Rain starte

d as a personal project and a few short stories were penned as ideas on paper. The initial drafts were written by a seventeen-year-old who was trying to understand the variety of challenges that life presents and was coming to terms with pain and loss. The book touches on a variety of circumstances, ranging from health issues such as cancer and autism to losing a loved one.
Preview the first two stories ! Seren's Star and Chasing Bubbles
The characters in the book
Over time, the characters in the book developed strong, unique personalities and eventually wanted their stories to be shared with others.
The characters in the book Dancing in the Rain helped the author understand that despite the difficulties that it presents, life should be celebrated. There is no formula to being happy and no foolproof way to overcoming challenges. Everyone does the best they can every day. Essentially, life is about dancing in the rain.
Now, their stories are officially bound together in this book to share with both children and adults alike.
Vision of the book
To bring the story of Khalon, Keisha, Maska, Seren, Shae and Amdis and their families to those who need a gentle reminder that they are not alone and that this doesn't happen only to them.
Have you ever wondered, "why me?"
It's not just you.
Giving back
For every book sold, $1 will be going towards child and youth programs through a registered not-for-profit organization. It is my sincere hope that I can soon increase the percentage of each book sold that will go towards funding various programs.
As an individual who is passionate about community programs and child and youth activities, I believe that lack of money should not prevent a child or youth from pursuing what he/she loves and enjoys, and from striving to be the best he/she can be.
I plan to issue a statement or acknowledgement from the receiving organization when I make a bulk donation so that all of you know where the money is going. For the moment, I will make a bulk donation for every 100 books sold (i.e. $100). If used properly, every little bit helps. I will make every effort to ensure that the organization receiving the funds is a legitimate and registered not-for-profit organization with a good reputation and history. I will also be considering the sustainability of the organization's work..
Like "Dancing in the Rain" on Facebook